Donations: Tithes/Offering
Whoever sows sparingly will also reap sparingly, and whoever sows bountifully will also reap bountifully. Each one must give as he has decided in his heart, not reluctantly or under compulsion, for God loves a cheerful giver. 2 Corinthians 9:6-7
PayPal: You must have a PayPal account to make a donation. If you do not have one click on the logo and create an account. It is free to use this service. Lomax Temple AME Zion Church pays the fee.
Givelify: You can also download the Givelify app. No account needed to pay with Givelify. You can also designate where your donation is being applied.
You can make a donation by clicking the image of the desired payment method and you will be redirected to that secured page.
Name: lomaxtempleamez@gmail.com
There are no fees and the church gets 100% of money. Most banks are affiliated with Zelle but not too many Credit Unions.
Find Zelle in the mobile banking app of our partners. If you already have your banking app on your phone, there's no download necessary. If your bank or credit union doesn't offer Zelle yet, just download the Zelle app to get started.
Click the above photo for instructions.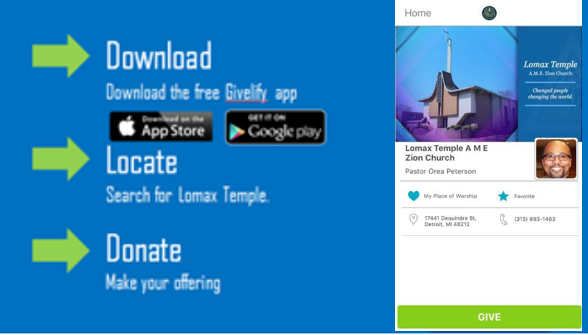 The Lomax Temple Family thanks you for your continued Support and Donations to the Church.
You can also mail your donation directly to:
Lomax Temple A.M.E. Zion Church

17441 Dequindre St
Detroit, MI 48212